Friday Sep 16, 2022
57: How to manage pelvic organ prolapse and Lichen Sclerosus as a young woman, with Natashja Simone from 'Living with Prolapse U.K'.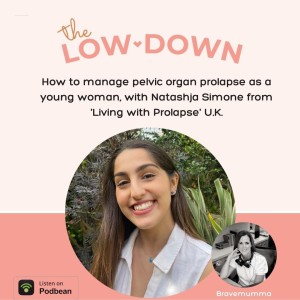 DESCRIPTION
In today's episode, our guest is one of the first women that we are speaking to who lives with pelvic organ prolapse and has not yet become a mum. That's right, Natashja was only 18 when she discovered that she had prolapse.
Now, I don't want to give too much of her story away, but I do just want to let you know when I welcome her to the show you are going to hear me call her Simone and you might think, oh, Steph's losing the plot. She doesn't even have the name of her guest right. 
I've only ever known her as Simone and I think we need to address this point. When Natashja first started her prolapse journey and started talking about it openly, she had so much fear of the shame and taboo of talking about women's pelvic health and then the extra layer of being so young and then the extra layer of not yet being a mum.
Natashja started her Instagram account and called herself Simone as a pseudonym as a level of protection, I guess. And I am so proud of her. I'm so proud of her for sharing her journey with us today because she is so brave to be able to do that.
This episode is for you if you want to know more about:
pelvic organ prolapse 
Lichen Sclerosus
uterine prolapse 
hysteroscopy 
septate uterus 
misdiagnosis 
how to communicate with your loved ones about prolapse 
perinatal decent 
how chronic constipation is a risk factor for POP 
women's pelvic floor physiotherapy 
sex with pessaries
finding ways to live your best life with prolapse 
LINKS FOR YOU
Send a Direct Message to the team on Instagram @bravemumma
Join the free Facebook group - Tips & Tricks for Women Living with Prolapse 
This episode is coming to you thanks to our partners at the Continence Foundation. Call the National Continence Helpline on 1800 33 00 66 and speak to a Nurse Continence Specialist for free confidential advice, Monday to Friday 8am-8pm.
CREDITS
Host - Stephanie Thompson
Executive Producer & Editor - Dave Stokes
Podcast logo artist - Khrystyna lukashchuk
Brand Designer - Brodie-Rose
Original Soundtrack - Steven Robinson
* A special thank you to our Bravemumma community for your understanding this episode being published a couple of days late. 
Comments
(1)
To leave or reply to comments, please download free Podbean or
Fantastic podcast ladies. I will follow you on Instagram Natasha. This is why I want my 20yr old daughter to know this stuff. X